İşte size Arjantin´li, Astrid Lindgren Anma Ödüllü yazar/illüstratör ve aynı zamanda pop şarkıcısı Marisol Misenta ( yazarlık adı : İSOL) dan harika bir kitap! Çokça TV seyreden kahramanımız Julito bir gün gene tv seyrederken bir reklamla irkilir, reklamda "yaşadığınız yeri bir haftalığına deği ştokuş edin ve bambaşka bir hayat yaşayın" dendiğini duyunca hemen başvurur ve bir haftalığına bu kültür alışverişi projesi ile Afrika´ya gitmeye karar verir. Karşığında şehirde yaşamak isteyen fil Bombo da onun evine gelir...
Televizyonun insanı nasıl paralize ettiği, gerçek hayatın, tecrübelerin bir ekrana kitlenmekten çok daha eğlenceli olduğu anca böyle ustaca yazılmış bir hikaye anlatılabilirdi... Dünyanın en iyi illüstratörlerinden biri olarak görülen Isol´den "Kültür Alışverişi" umarım Türkçe´ye çevrilen "tek" kitabı olmaz.
4 yaş üzerine rahatça okunabilir. Fom Kitaptan taze çıktı...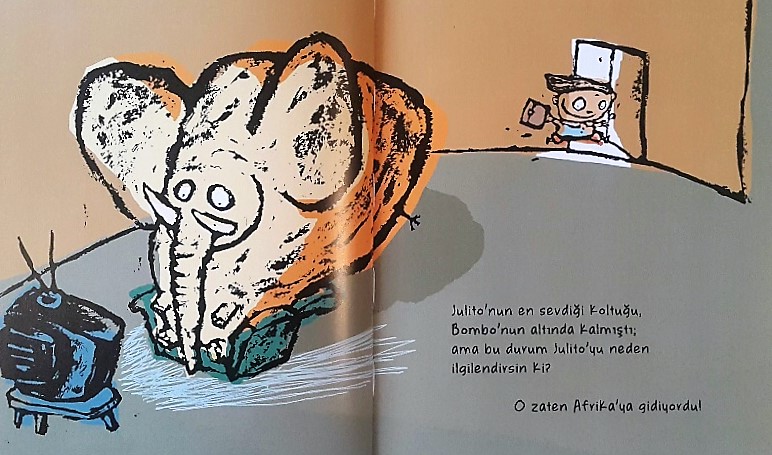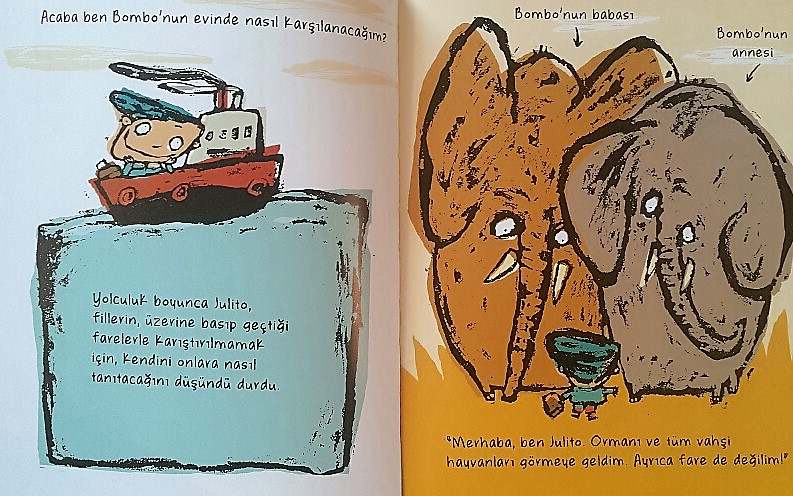 Marisol Misenta Kimdir?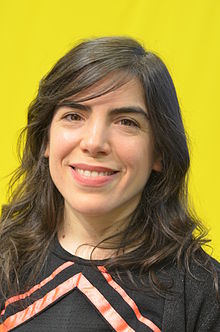 Marisol Misenta (born 6 March 1972), known professionally under the mononym Isol, is an Argentine creator of children´s picture books and a pop singer.
For her career contribution to "children´s and young adult literature in the broadest sense" she won the Astrid Lindgren Memorial Award from the Swedish Arts Council in 2013, the biggest prize in children´s literature.
Isol was born in Buenos Aires where she lives to this day. She studied at the Escuela Nacional "Rogelio Yrurtia" to become a Fine Arts teacher, and spent a few years studying art at the University of Buenos Aires. At some point she abandoned teaching to work full-time as an illustrator and writer of children´s books, a natural synthesis of her taste for comics, literature and visual arts. Her first book, Vida de perros (A dog´s life) was published in 1997, following a Mention of Honour at the contest A la orilla del Viento, organized by FCE publishers (Fondo de Cultura Económica, Mexico). From that moment on she has continued to publish books as an integral author, and has in turn illustrated texts written by other authors, such as Graciela Montes and Paul Auster. Her personal style for telling stories by means of drawings (candid, yet sometimes ironic) has allowed her the good fortune of being published in Mexico, Spain, USA, France, Korea, Switzerland and Argentina.
From 2000 to 2005 she published a weekly illustration each Sunday in the Clarín (Argentine newspaper) Sunday magazine, doubtlessly the most widely read paper in Argentina. Her section in the paper involved illustrations of well-known tales for children and young people by established authors. She has also worked for Página/12 newspaper, Para ti and Noticias magazines, among many others. She has currently focused completely on children´s picture-books, though she also does some graphic works and comics from time to time, as special projects, such as the book Consecuencias, a project set up by Casa de América, Spain, in 2000, and the book Under the Spell of the Moon, for Groundwood Books in 2004. Among other projects, she took part in the BIB '99 Workshop for illustrators, organized by UNESCO in Slovakia, and has received the Golden Apple 2003 Award for her illustrations to the book Tic Tac.
Her books El Globo (The Balloon) and El cuento de Navidad de Auggie Wren (Auggie Wren´s Christmas Story) have been selected to be part of the White Ravens list 2003, and 2004, the latter involving a Special Mention. Her book Tener un patito es útil (It´s useful to have a duck) was selected by the American Institute of Graphic Arts (AIGA) for their catalogue and exhibition"AIGA 50 Books/50 Covers" (USA). This book won also a Silver Mention in Quórum Awards (Designers Council from Mexico) and it was chosen for the Banco del Libro Best Books 2008 (IBBY Venezuela) For her body of work as a children´s illustrator, Isol Misenta was one of five or six finalists for the biennial, international Hans Christian Andersen Award both in 2006 and in 2008.